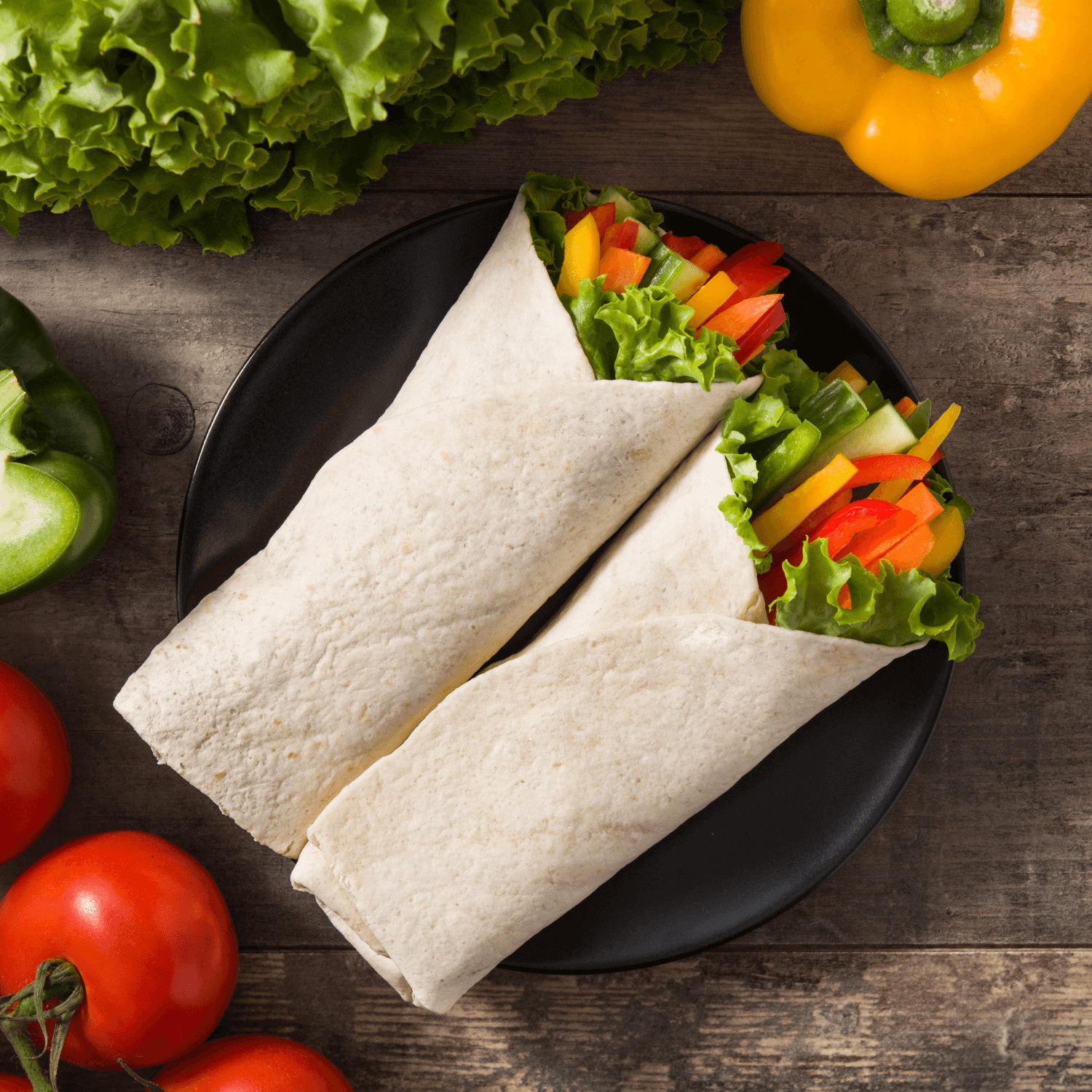 Rainbow Salad Wraps are a delicious and nutritious meal option. They are made with a variety of colourful vegetables like bell peppers, tomatoes and cucumbers. The wrap is then filled with a variety of herbs and spices, and usually a type of dressing such as a vinaigrette or ranch. This meal is a great option for those looking to get in their daily servings of vegetables, as well as the protein source to keep you full and energised throughout the day.
Serves: 4  |  Preparation & Cooking Time: 20 minutes
Wraps:
4 Tortilla wraps

1 Cucumber, thinly sliced

1/2 red Bell Pepper, cut into thin strips

1/2 yellow Bell Pepper, cut into thin strips

1 small Onion

Red Otter Farms Lettuce Greens

100 grams Hummus

Handful of fresh coriander or parsley leaves

For Vinaigrette

1/4 cup fresh Lemon juice

1 small Garlic clove, crushed

1 teaspoon Dijon Mustard

1/2 teaspoon Honey

1/4 cup extra virgin Olive oil

Salt & pepper, to taste
Step 1:
In a bowl, whisk together all the ingredients for the vinaigrette. Toss cucumber, bell pepper & onion with the vinaigrette and keep it aside
Step 2:
Lay the wraps on a flat surface. Spread the hummus on the wrap, followed by placing lettuce leaves over it. Now put the rest of the ingredients on top and spread evenly.
Step 3:
Fold in two of the four sides of the wrap about 1/2 inch (so fold top and bottom) Then take the other side and wrap it up tightly! Cut wraps in half or leave whole.
Enjoy the wraps with your favourite dip!