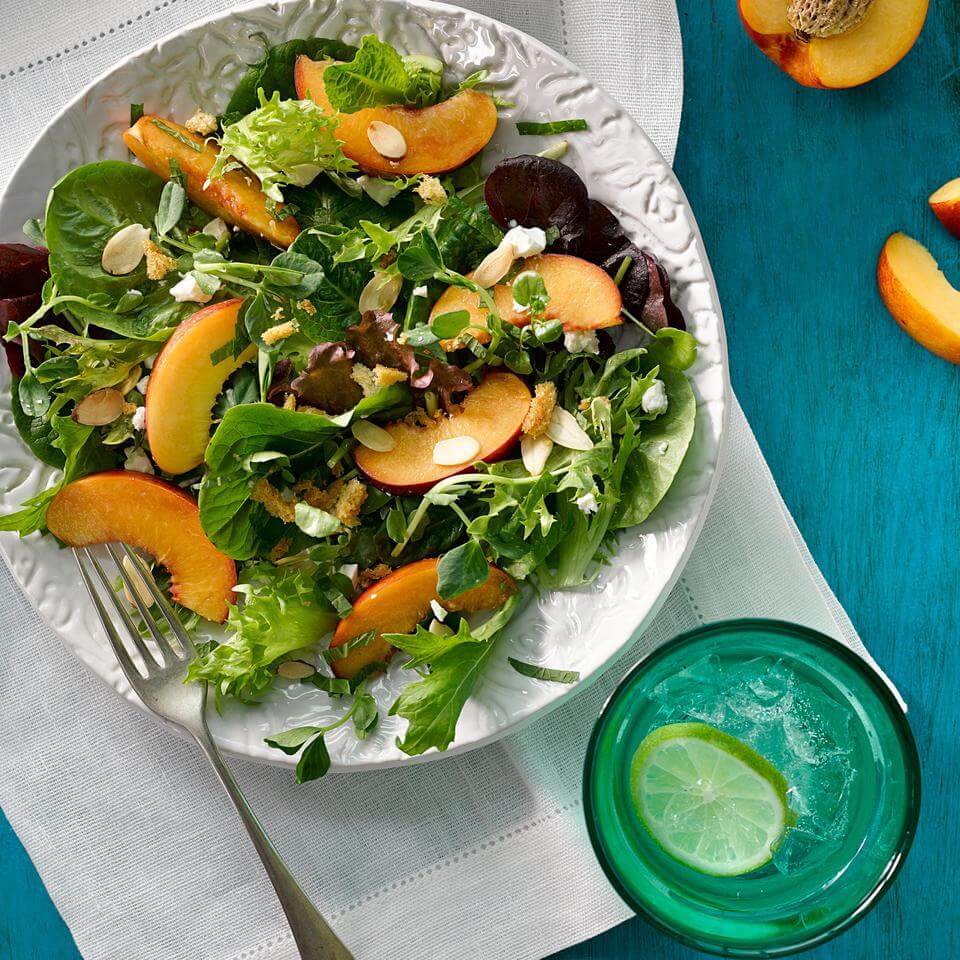 Green Salad with Peaches & Mint Vinaigrette
This green salad with peaches and mint vinaigrette is a delicious and refreshing summer salad. It is full of fresh ingredients and flavors. To make it, you will need fresh green lettuce, sliced peaches, fresh mint leaves, and a vinaigrette made with extra virgin olive oil, rice vinegar, honey and lemon juice. For extra crunch, you can add toasted nuts or seeds. To assemble, simply toss the lettuce and peaches together in a bowl and top with the mint leaves and vinaigrette. Enjoy this salad as a side dish or a light meal.
Serves: 4  |  Preparation & Cooking Time: 20 minutes
For salad
Red Otter Farms lettuce & salad greens, roughly hand chopped

4 ripe peaches, sliced

1/4 cup almonds, slivered & toasted

3/4 cup feta cheese or goat cheese, crumbled

1/4 teaspoon kosher salt
For dressing
1/4 cup mint, slivered

3 tablespoons lemon juice

1/3 cup extra virgin olive oil

1 teaspoon honey

2 tablespoons rice vinegar
Step 1
To prepare vinaigrette: Combine mint leaves and lemon juice in a saucepan, bring to a boil and remove from the heat. Let it steep for about 10 minutes. Strain it and extract all the liquid. Add oil, vinegar, honey & salt and whisk well to combine.
Step 2
To prepare salad: Toss the greens and almonds in a salad bowl and drizzle some vinaigrette. Add peaches and gently toss again.
Step 3
Serve the salad topped with crumbled cheese.